Woot! It's read an E-book week.
And for you lucky Canadians, it's Read an E-book Month. Tons of authors, publishers and retail outlets are offering all kinds of e-books for free. Yippee
I did and here's a few I found.
Click on the cover picture to go for the download. Enjoy.
What the Heart Sees by Marsha Canham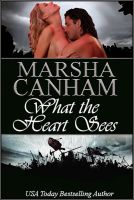 A medieval tale of a knight defying Prince John's edicts, and a forester's daughter whose chance encounter with a blind jeweler offers the only possibility for escape... and for love.
2 books from Karen Michelle Nutt
A Twist of Fate and L

ucca:

Warriors for the Light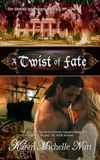 Has a twist of fate sent her back in time? This is a question which plagues Arianna Ward when she wakes up to find her memory in fragments, like a long forgotten dream.
Everyone claims her name is Annabelle. The year is 1814 and she's married to Captain Keldon Buchanan, a man who despises her. The more she learns about her life, the more she realizes why she's chosen to forget it. She's a liar and an adulteress. She doesn't understand why she wanted to destroy her marriage when her heart tells her she belongs with Keldon.
Keldon harbors his own secrets. He's the Highland Pirate and secrecy is the difference between life and death. He doesn't trust his wife, but he finds his heart softening to the woman his wife has become. If he didn't know better, he'd swear he's married to another woman and he's fallen in love with her.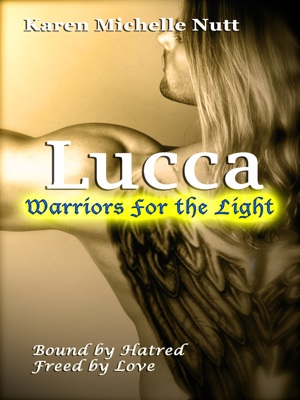 Lucca Marlowe is half human, half angel, one of the Nephilim. Banished for crimes against one of his fellow brethren, the elders bind his glamour and wings, casting him to the human's realm. He'll either learn to respect his human side of existence or live out eternity trying.
Lucca does not live a mundane life. Angels and demons demand he do their bidding. His estranged father resurfaces after centuries of being absent and he's brought a friend from Hell.
To make his life more complicated, he fears he found his soul mate in a human female. Only Juliet Romeo has a secret that will bring the wrath of Heaven down upon their heads.
It's a race against time to find out who will end up with his soul.
Life, Love and a Polar Bear Tattoo by Heather Wardell
When Candice's in-laws were killed eight months ago buying a huge faux polar bear rug for her Christmas present, she lost more than just two of her favorite people: she lost her husband Ian as well. After only two years of marriage, their guilt and pain have left them living together but apart, unable to really talk for fear of what they'll say to each other.
Ian leaves for a month-long contract overseas, and Candice plans to use the time apart to decide whether her marriage can be saved. When her ex walks back into her life as the new client at work, ten years more attractive yet saddened by his own recent loss, she's left wondering what she really wants from life and love.
Fern's Fancies by Lillie Ammann
When Fern Tate sold her interior landscape company to a national corporation, she didn't expect to have a boss like Pendleton Morgenthal, III. Had she made the biggest mistake of her life?
Pen never allowed a woman—especially a subordinate—to distract him from his fast-track career. What was it about Fern that made her different?
Evoguia by Steven Lyle Jordan
A scientist in Atlanta creates a revolutionary breakthrough in accessing the untapped potential in humans, and in so doing, sows the seeds of a decades-spanning conflict between Homo Sapiens and a group of people—a 98-pound weakling, a police detective, a boy with learning difficulties and an illness-prone woman—who become the first generation of Homo Evoguía... the Self-Evolved Man.
War of the Roses by Warren Adler
The classic story of a nasty divorce.
This is the book that inspired one of the most famous movies about divorce ever produced. The movie is shown somewhere in the world every week, and the book has been translated in almost every language on the planet. "War of the Roses" tells the story of Oliver and Barbara Rose, who thought they had a perfect marriage, only to discover that their relationship was barely skin deep. The war they wage against each other eventually descends into brutality and madness as they destroy each other's most prized possessions and spiral into chaos. The global impact of both the book and the movie has brought the phrase "The War of the Roses" into the accepted jargon describing the terrible hatred and cruelty engendered in divorce proceedings.
Re-Deal by Richard Turner, The Cheat.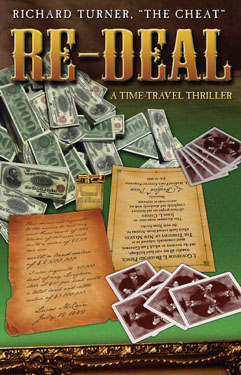 Buckle up for time travel, karate, and gambling in this action-adventure thriller. Matt McCain, a young man trying to overcome personal loss and family misfortune, and his amigo Juan, a Mexican orphan turned evangelist, are pitted against the Cyphers, a family that utilizes evil for every gain. The presence of Miss Guided, the angel who doesn't always get it right, changes them all.
With more twists than a switchback trail, Re-Deal is a time traveling race against evil and misfortune. An 1882 poker showdown promises to change history forever, and Matt McCain aims to be the winner. But first he must match skills with the greatest cheaters of the Old West—from Doc Holliday to S. W. Erdnase.
The players, the power, and the present all hinge on the journey back to 1882, a trip through time that Re-Deals history in a startling conclusion.
If you're and author, publisher or retail outlet that has some more free books, list them here in the comments. If you're a reader that happens to know of a great free read this week, put it on down in the comments too.