On April Fools Day you know what to expect.
Water balloons in your shower, black food dye in your eggs, and vodka in your water bottle.
It's a prankster's delight.
What I didn't expect was heart warming stories of charity, hope and love, all free from everybody's favorite Romance publisher, Harlequin.
Much to my surprise, during my daily perusal of free e-books, up popped several Harlequins. Yippee.
I was surely wary that the second I opened up these books on my Kindle or in the cloud some scary faced kitten-clown was gonna pop out of a toilet and scream April Fools at me. Didn't happen. Phew.
All three books were Harlequin's More than Words line.
I got nothin' here. Never heard of it. So, I popped on Google to find out what's the sitch.
Here's what
Harlequin's website
says.
"
Somewhere right now, a woman's compassion is improving the quality of life in her community—not only for herself but for those she cares about most.
With each act of kindness, each word of support, she is proving that real-life heroines do exist. And at Harlequin we believe her story should be told!
We solicit nominations of ordinary women who have made extraordinary contributions to their communities. With your support, we hope to turn awareness into action, and mobilize others to become engaged and make a difference.
Information detailing how readers can get involved in their own communities in projects related to the award recipients' chosen causes will be available both in print and on our web site.
The Harlequin More Than Words program is responsible for the administration of Harlequin's philanthropic initiatives dedicated to the well-being of women."
Okay, sweet. I'm a big fan of philanthropy. But, what's with the books? Somehow I don't think Harlequin has heard of my poor destitute state.
No, I'm afraid their cause is more noble than
to philanthropize some free books just to support my reading addiction.
"Harlequin authors care about women and their communities. These bestselling writers have been touched and inspired by the recipients' commitment to their causes.
Each one of these authors has given her time and her passion to craft a touching short story inspired by the true story of one recipient."
"
Each and every one of us has the ability to effect change—to make our world a better place. The dedicated women selected as the 2010 recipients of Harlequin's More Than Words award have changed lives, one good deed at a time. To celebrate their accomplishments, some of our bestselling authors have honored the winners by writing stories inspired by these real–life heroines.
We hope the More Than Words program inspires you to get in touch with the real–life heroine living inside of you."
Well, they inspired me, into sharing.
These three books are up for grabs today on Amazon. Click on the book cover picture to link directly to the book on Amazon. Be sure to double check the price as most of the promotions only last a few days at most.
Hooked by Betina Krahn
In this book, Betina Krahn honors the work of Donna Fischer, the Arizona program coordinator for Casting for Recovery, a national non-profit organization that runs fly-fishing retreats for women who have or have had breast cancer.
No One But You by Jillain Hart
In this book, Jillian Hart honors the work of Mary Byberg, a committed volunteer for Nellie's Shelter for Women and Children in Toronto, Ontario.
In this book, Michele Hauf honors the work of the Barta sisters--Berni, Romi, Lexi and Marni Barta--and the not-for-profit organization that they founded, Kid Flicks.
These two you can download directly from Harlequin's website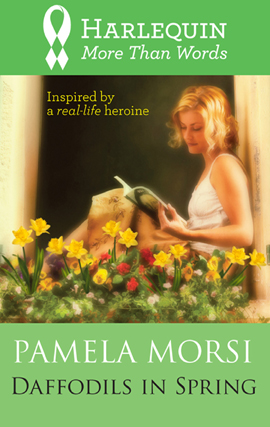 Daffodils in Spring by Pamela Morsi
In this book, Pamela Morsi honors the work of Karen Thomson, Founder of Literature for All of Us.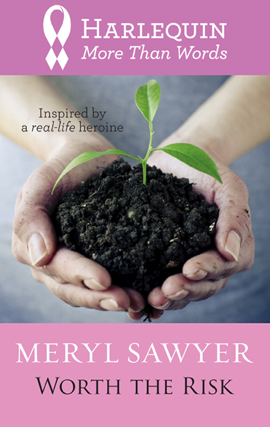 Worth the Risk by Meryl Sawyer
I

n this book, Meryl Sawyer honors the work of Gracie Cavnar, founder of the Recipe for Success Foundation.