(or where ever my blog is listed now. Phew!)
Click here for the linky to all the other hippity hoppity blogs.
For most of you this is your first visit to Amy Denim's 365 days, 365 Free E-books.
So here's the gist.
I'm poor.
I'm a reading addict.
I got a Kindle for Christmas.
I download free e-books for it.
But there are A LOT of free ebooks available, not only from Amazon, but other places too. How is one find out about the good ones?
That's where I come in.
Everyday, I get crack umm, emails from various dealers sources telling me about FREE Ebooks. I post the best looking ones here on the blog with links to download them. Sometimes I read and put up a review letting you know whether to One-Click it (which is the fast and easy way to download from Amazon) or to skip it.
I also feature authors who are have freebies. I've got Romance authors lined up for the rest of May who will be giving their books away this month. (Hey authors, just shoot me an email or a tweet if you'd like to be featured on the blog!)
I tweet about all these freebies from @365FreeEbooks.
I pepper my blog with advice for authors, recommendation on whether to check out other books, and my own personal rants.
If you're a twitter addict like me, just follow @365FreeEbooks to get links to free books all day long!

I'm a Romance writer (proud member of RWA, my local Colorado chapter and Rainbow Romance Writers), so most of the books featured are in my favorite genre. I like to throw in some YA, general fiction and even a couple of non-fiction books just for fun every once in a while.
I also try to do at least one giveaway a month.
The nature of free ebooks is here today gone tomorrow, so a majority of my giveaways are spur of the moment. Best way to find out about them...subscribe. (surprised aren't you?)
The giveaways so far were:
A paperback copy of Jean M. Auel's Clan of the Cave Bear
(I'm an Earth's Children Ambassador)
5 Kindle copies of SEAL of my Dreams by a truckload of Romance Authors
(proceeds benefit
Veterans
Research Corporation,
a non-profit fundraiser for veterans' medical research)
A Kindle Copy of Marie Sexton's Cinder -
A CinderFella story--it's all fun and games until somebody loses a shoe...
A two-pack of Jenn LeBlanc's groundbreaking illustrated romances
The Rake and the Recluse: Freedom & Found
A Kindle Copy of Jessica Aspen's Little Red Riding Wolf -
A twisted fairy tale Paranormal Romance
A Kindle Copy Cynthia Woolf's Centauri Dawn -
A Sci-Fi Romance
Are you feeling the Free Ebook love Bloomin? Awesomesauce, me too.
For all my new followers and my lucky already-a-follower followers here's my little giveaway.
T
he mother of modern romance JANE AUSTEN!
No, I don't have Jane's relics stashed away in a my basement. Really.
Janey-girl is my personal favorite classic Romance author. And for you clean romance fans out there - you'll be swooning outside the bedroom door.
In 365 Free Ebook style you can totally download Jane Austen for Free.
Click on the book covers to go straight to Amazon.
Yeah! Lots of Austen. Now, I lurrrrrv E-books, but the feel of a leather and paper book in your hands, the smell of the pages, the weight of words. There's nothing like the real thing.
Enter to win a real life, touch it, feel it, read it, copy of Jane Austen~ Seven Novels.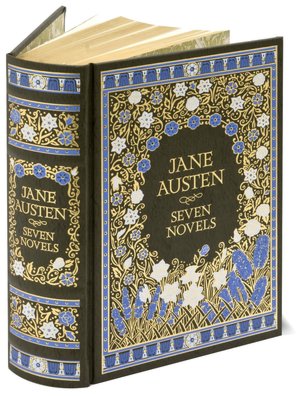 Oooooh, pretty.
I'll be announcing the winner here on the blog and Twitter on May 24th. If you'd like me to email you about winning leave a blog comment below with your email in super secret sneaky format ie - amy at amydenim dot com.
To enter to win this beautiful leather bound edition of Jane Austen: Seven Novels just click your way through the tasks rafflecopter asks you to do for a chance to win it.
Good luck and enjoy!